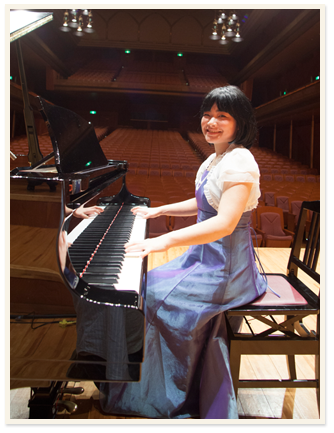 Asuka Noda is a pianist with Autism Spectrum Disorder (ASD).
Born in 1982, she started taking music lessons at age 4 and soon aspired to become a pianist. From childhood, Asuka had difficulty in connecting and communicating with people and often showed peculiarity in her behavior. However, her diagnosis did not come until later because the knowledge of ASD was not widespread during this time. Asuka was not able to figure out why she could not do things that seemed normal to others until she was diagnosed as a young adult. She lived each day as if she were groping in darkness for the key that unlocked the answers to her questions about her differences. In her adolescence Asuka became a target of constant bullying. Confused and unable to accept herself, Asuka started self-injurious behavior and was forced to transfer after her first year in high school.
She was accepted into the National University of Miyazaki which had been her girlhood dream. However, she frequently fainted from hyperventilation induced by stress caused from difficulty in human relations. She was diagnosed with Dissociative Disorder and repeatedly hospitalized with the hope that she will be cured but she again had no choice but to drop out of her university.
Family members and the people who surrounded Asuka were troubled and Asuka herself was constantly plagued by the question, "Why am I not able to get along with others?" Thereafter, she chose to continue her studies as a long-term non-degree student in the Music Department at Miyazaki Gakuen Junior College. Here, she met Professor Sachiko Tanaka who became her mentor and taught her to express the words that lay in her soul through the music she played on her piano.
During a few days of study abroad in Vienna, Asuka again lost consciousness and for the first time at age 22, she was finally diagnosed with Autism Spectrum Disorder,
a non-curable congenital disorder of the brain.
---
After returning home from abroad, she experienced dissociation and in a panic attack she jumped out of the window on the second floor of her home. The bones of her right leg were crushed in a communitive fracture and Asuka became wheelchair bound. The after effect of the accident prohibits her use of her right foot to step on the pedals of the piano. Today, she has devised a method of using her left foot to control all the pedals of the piano and continues to perform. Asuka has overcome many hardships and the long engagement with her own disabilities has made the sound of her piano tender. The sound of Asuka's piano has come to move the hearts of many listeners.
Asuka made her debut in 2016 and in 2018, she did her first nationwide tour. Her performances and activities have been taken up by multiple TV programs. In 2018, Asuka made a major debut from Victor Entertainment Corp. with her original song, "On the Other Side of Sorrow." Asuka's performances have been enormously well received with the venues full and the tickets quickly being sold out. She is a pianist whose activities are drawing attention from a wide audience.
Asuka resides in Miyazaki Prefecture with her parents.
**You can find out more about Asuka Noda at http://nodaasuka.com**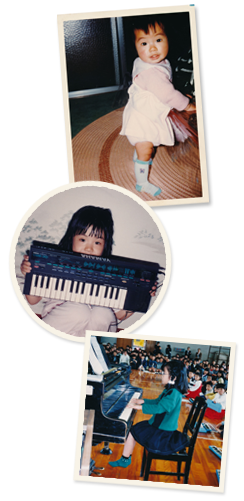 2017
Encouragement Award from the Iwatani Tokiko Foundation
Iwatani Tokiko Award is given to artists who bear the future of the world of music and/or the theatre, and to those persons or organizations who have contributed to the enhancement and development of the industry.
2006
Grand Prix, Miyanichi Music Competition
ANA Europe Award
This competition is sponsored by Miyazaki Nichinichi Shimbun Newspaper and co-sponsored by All Nippon Airways, Co. (ANA) to contribute to the promotion of music culture. The competition is operated in order to discover and to nurture talented performers among students of music who are in schooling age and above.
Letters from a Pianist with Autism Spectrum Disorder—Why am I not able to get along with others?
Asuka, Yoshinori, and Kyoko Noda. Ascom, Inc. Tokyo. 2015.
—This book is a story of Asuka Noda's life of 33 years since her birth, co-authored by Asuka and her parents. Asuka who is on the spectrum restores and writes her childhood memories of a struggle to be like others and her experiences of not being able to connect or communicate with the world around her. Her father Yoshinori and mother Kyoko also write their story of the life with Asuka before and after her diagnosis of ASD. A CD with Asuka's piano is attached to this book. Two original songs composed by her titled, "Letter to Myself in my Childhood Days" and "Life's Melody" reveal the feelings of a person with ASD—(Language: Japanese and English)
Music to Release Stress and to Feel Tender Selected by a Brain Scientist
Asuka Noda and Nobuko Nakano. Ascom, Inc. Tokyo. 2016.
—Ten original piano pieces composed by Asuka are attached to this book in the form of CD. Asuka gives comments on each of her compositions and Dr. Nakano a Neuro Scientist and Psychologist comments on the importance of being "mindful" to the self—(Language: Japanese only)